Shawarmer is one of the best shawarma and fast food places in Saudi Arabia. The store is famous for its delicious dishes and various options, in addition to fast delivery and food quality. The app or website provides you with the best types of well-known international food and all kinds of shawarma, sandwiches, and Morning snacks, in addition to various drinks. With Shawarmer digital card from Resal, you can now get all exclusive discounts on all your meals.
So in this article, we will show you how to buy and activate the Shawarmer digital card from Resal Store.
How to Buy a Shawarmer Digital Gift Card:
Resal store offers you a unique gift card shopping experience. With Resal Store, you can browse and choose from a collection of more than 300 digital cards from international and local brands in all categories, all within your reach now in Resal Store.
To purchase a Shawarmer digital card, follow these simple steps:
Visit Resal Store website or app, login, or create an account.
Search for the digital card you want
Choose the "Shawarmer card".
Select the value of the card.
Select the number of cards.
Choose "Buy the card" and proceed to payment.

How to activate the Shawarmer digital gift card
Shawarmer gift card allows you to access the Shawarmer store and enjoy the finest and the most delicious shawarmas, sandwiches, salads, etc. After you purchase the Shawarmer digital gift card from Resal, you can now go to the app, make an order, enter a card number and get discounts easily. To activate your card, follow the following steps:
Download the Shawarmer app and log in to your account.
Order your meals and add them to your cart.
Proceed to the payment page.
Click on "Do you have a coupon."
Enter your coupon, in the space then click on "apply" and benefit from your discount.
The Best 5 meals in Shawermer Store
Breakfasts: Choose your favourite breakfast at the store. You can personalize everything you want from the type of bread used to the drinks that come with the breakfast. The most popular breakfasts offered by the store are beans, shakshouka, and the eggs breakfast. Choose your breakfast now and enjoy a flavoursome taste.

Sandwiches: Browse the different types of sandwiches with potatoes and chicken. Choose from different types of sandwiches with delicious tastes, ingredients, and various mixtures, such as Brioche sandwich, Rahiya sandwich, Arabic chicken shawarma sandwich, and others.

Sauces: The store offers you different, varied, and delicious sauces, including different ingredients and recipes with different calories, count to guarantee the perfect and healthy flavour. Choose your favourite sauce now and order it with Shawarmer and Rasal.

Limited Offers: As always, the Shawarmer store keeps bringing you back the frequent and limited offers. Now you can benefit from the new offers such as the Batrana sandwich offer. Or you can choose the Batrana meal containing large chicken shawarma in tortilla bread with potatoes, pickles, Tomnar sauce, and crispy fried onion slices. Order now with Shawarmer and Resal and benefit from the best exclusive offers.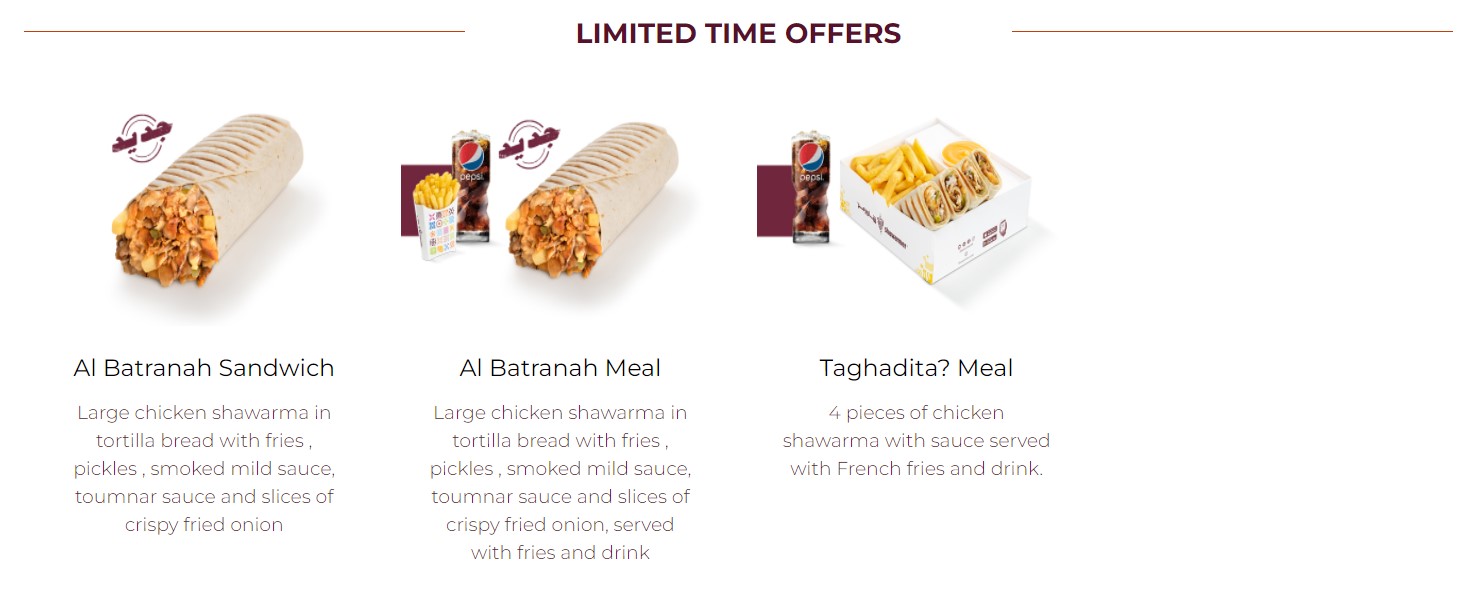 Order Your Meal Now And Enjoy The Best Sandwiches With Shawarmer Gift Card From Resal