We can define loyalty programs as the different strategies you apply to your brand to increase the loyalty of your customers. The programs are based on loyalty points or stamps for each purchase, which can be later redeemed by rewards that include discounts or free services. Implementing these programs will help you increase customer satisfaction as well as your profits because as we know regular customers spend 67% more than new customers.
There are many types of loyalty programs that are implemented by major brands, but the most common of them is the loyalty points program. In this article, we will talk about the loyalty points program and how to apply it to increase your customers' loyalty.
What is the Loyalty Points Program?
It is the easiest loyalty program, based on an easy principle. The more the customer spends the more loyalty points he earns, and the more rewards he gets. In this program, the customer gets a certain number of points whenever he buys from your store, and the number of points earned changes with the price of the product. These points can be redeemed later for rewards or discounts for the customer.
Why should you apply it?
The points program is considered one of the easiest loyalty programs adopted by major brands for several reasons, the most important of which is that it is easy to apply and use. This means that you will not face any difficulty in designing a loyalty points system that suits you and your customers, and they will not find it difficult to register with your program and collect points and rewards.
In addition, this program ensures that you increase the average spending of your customers and encourages them to come back again and stay loyal to your brand and not run away to your competitors.
This program has become popular among famous brands, stores, restaurants, and more, that's why we see that 73% of the loyalty programs used are loyalty points programs.
One of the most famous brands that use these points is Starbucks. Which offers its customers a number of points for every sale in its stores.

How to apply the rewards points program effectively?
1. Make your program easy:
Make your points program easy to use. Don't make things difficult for your customers. Whether in subscription or in the process of redeeming their points for rewards. Because this will reduce their participation in your loyalty programs and create a bad experience for them in general.
2. Use the referral system:
Use the referral strategies with your Loyalty Points Program. Reward your customers whenever they suggest your restaurant or cafe to an acquaintance. This will help your brand to grow, increase your profits and the loyalty of your customers to it.
Statistics show that customers who come through referrals have a 37% higher retention rate and are 81% more likely to interact with brands that have rewards programs.

3. Make your points program dynamic:
Always make sure to change and develop your points program. And make it flexible with any occasions or holidays your customers might have. Increase the points or rewards on those special occasions and make your customers spend more. For example, you can double the points obtained on a national holiday or at a specific hour of the day (happy hours). Or double your customers' points as they level up.
It's a good idea to have your loyalty program interactive with customers. Always make sure to reward customers on all important occasions and events such as their birthdays, national holidays, and other different occasions. Because this will strengthen your relationship with your customers and increase their loyalty and satisfaction with your brand.
4. Make points with an expiration date:
Create urgency for your customers by making their points with an expiration date. This will make them rush to return to your store to buy and earn more points or to exchange them for one of the rewards before they expire. This strategy will help you to significantly increase the return rate of customers in a shorter time.

5. Use a platform to run your own loyalty programs:
Use the services of a loyalty program application such as boonus to help you design, organize and promote your loyalty programs to your customers to ensure their success and increase your sales.
Here in Resal are always keen to provide the best loyalty and rewards solutions for your brand with your own identity to ensure the increase in the loyalty of your customers and the rate of their retention. We also provide other distinguished services to companies and individuals in the field of rewards and digital gift cards. Apply now and get your demo. And benefit from the best with us.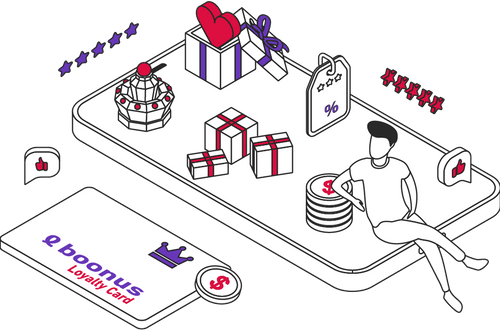 In conclusion, we can say that easier is always better. Therefore, the Loyalty Points Program has always proven successful due to its ease of application and use. Not only that, it is like all other loyalty programs, helps you increase the loyalty of your customers and increase their purchase rate, which means increasing your profit rate. And with Resal boonus, we always guarantee the best loyalty programs to ensure and increase your customer loyalty.