The health crisis and the spread of Covid 19 globally more than a year and a half ago forced students to leave schools that were closed during that time. That has led to the popularity of online education or distance education as a temporary solution. This major transformation in education systems from learning environments within the classroom To remote learning environments has reduced the time teachers spend interacting face-to-face with students, which reduced their performance. However, you can still increase motivation and performance by improving relationships between you and your students, and rewarding those who score the best. And all that is possible with Resal glee.
In this article, we'll discover how that is possible with glee.
Why it is important to Reward your students: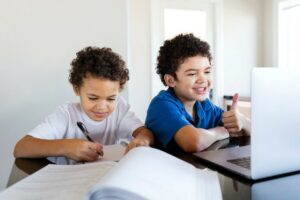 According to The Guardian, 50% of students who study remotely felt unhappy with studying online. That's because they simply could not communicate with their teachers enough which made them a little unmotivated. And that's why rewarding them constantly for their success remotely will provide a push for the students not only to improve their performance but also to strengthen their relationships with their teachers. And here is where glee comes, providing easy and innovative gifting solutions to help you reward your students with different options of digital gift cards.
Rewards are effective when it comes to increasing the occurrence of a behaviour. That's why they are effective in increasing the academic performance of students and their motivation towards success.
Rewards also increase students' self-esteem and self-confidence which are really important factors in achieving academic success.
Rewarding your students also increases the interaction between students and learners inside the virtual classroom. And it also helps build a good relationship between the two parties.
Gifting your students also helps to create a good atmosphere of competition between them which helps their performance and their scores.
Remote gifts with Resal glee:
Although there's no face-to-face interaction with your students studying online, you can still reward them for their efforts and excellence. Online studying methods have made virtual online rewards a popular choice as well, which is what we offer here in Resal glee. With glee, you don't need to go to stationery or the library to buy gifts for students. Instead, you can send dozens of digital gift cards to your students without moving a muscle.
How would Resal glee help you reward your students?
Instant and flexible delivery
You can deliver rewards to students easily and quickly, at any time through SMS, email, and shared links, and you can also customize rewards by sending them with private messages to your students.
Different digital gift cards options for all tastes
Your students' tastes may differ, and choosing rewards may cause you real trouble, but with Resal glee, this won't be a problem for you. In Resal, we provide our customers with a huge selection of +300 digital gift cards from the most famous brands, which will give you a lot of ideas when choosing digital gift cards that fit your students' preferences.
Send multiple rewards at once
You won't have to worry about the time and effort it will take to send gifts to your students individually, with glee it's easy to send dozens of digital gift cards to your outstanding students with just a click of a button.
Digital gift cards ideas for your outstanding students:
Digital Gift Cards for Fluent English Learning: With the Cambly Digital Gift Card from Resal, you can reward your students with more opportunities to learn English to invest in the future. With a subscription to the Cambly App, they will get a unique experience of learning English interactively with native teachers.
Digital Gift Cards from Bookstores: Reward your outstanding students and help them develop their skills through smart and creative gifts with Resal glee digital gift cards from various bookstores such as Jarir Bookstore, Obeikan Bookstore, or Cloudy Book Store for Creative Books and Gifts.
Digital Gift Cards for Their Favorite Food: A delicious meal that arrives at your students' homes can be a great way to reward them. Give them a digital gift card to enjoy a meal from their favourite restaurants during their time at home. Send them a digital gift card with glee from Domino's Pizza, Or F6or Faris restaurant, or any other restaurant they like, and let them order their favourite food.
Various studies have shown that emotional and social factors such as students-teachers relationships, and their motivation for learning can increase the student's performance and outcome. Not only that, but these factors also help create a good and effective learning environment. This is why you should consider rewarding your students to motivate them and improve their behaviour and outcome and their relationship with you.
With Resal glee, you can do that and even more. glee allows teachers to gift their students with +300 different digital gift cards options from the most famous brands easily, and all with one click.
So what are you waiting for? Create a good learning environment and motivate your students with digital gift cards from Resal glee