Struggling to come up with an idea for personalized gifting campaigns? Worry no more. With this new glee feature, you can get a pack of pre-set gifting templates ready to use. Here in Resal, we know that your time is precious. We also know how long the gifting campaign design process can take. In this article, we'll talk about the Predesigned templates feature and how it can save you time and effort.
Email and Landing Page Templates for Each Occasion
Do you know how long it takes to create a gifting campaign from scratch? It takes a long and unnecessary time. With this new feature from glee, you can browse and choose from different ready-to-use templates and just edit them to include your name and logo. With this feature, you can get professional and pre-designed Email templates and landing page designs with personalized messages, each suitable for a certain occasion or a special day.
Make Every Occasion Special
This amazing template pack will save you the time and headache of customizing individual templates for each recipient. From "employee of the month" awards to employees' birthdays, weddings, newborns, or national and international days and occasions, our ready-to-use gifting campaigns templates are perfect for any occasion.
Save time and don't worry about designing your gifting campaigns. With these ready-to-use, editable, and customizable templates from Resal glee, send your gifts in no time.

How To Use Predesigned Templates?
After you create your order, add recipients, and select gifts, now it's time to personalize your gifts.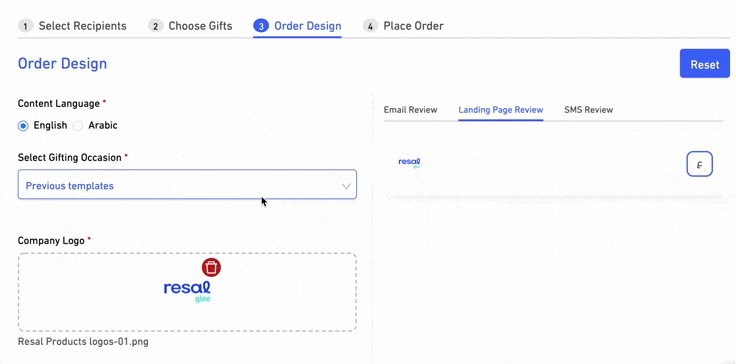 1. In the gifting design tab, you can choose your gifting occasion from many different preset occasions. You can also upload your company's logo and save it to personalize all your gifts.
2. Personalize the Gift Banner and the Email background
3. Add the recipient's name and add a personalized message from the heart and wish your employees and customers the best. Or you can choose from the preset messages and congratulations. You can also choose the theme and button colours for a beautiful well-designed gift.
You can preview your message and see if there is anything you want to change.
Sometimes time can be scarce. With the Predesigned Templates feature, you'll always be ready for a gifting campaign for any occasion. Simply choose between our preset designs, edit them as you like and you are ready to go. With glee, send the perfect gifts that stay forever.