Corporate Gifts Beginners' Guide: Everything You Need To Know
As part of their business relationships, many companies find it crucial to reward their employees, clients, or partners to make sure they strengthen their bond and increase performance and engagement. Corporate gifts are so important when it comes to increasing motivation and rewarding employees for a certain milestone they helped the company reach. 
But you may wonder what's the best way to properly reward employees to get the maximum benefit for both parties? In this article, we'll discuss everything about corporate rewards and how to use them to your advantage.
Why corporate gifts?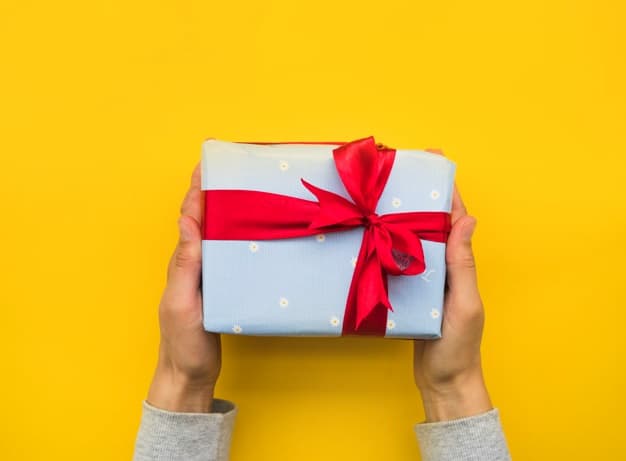 Many businesses forget corporate bonuses and gifts, thinking it's just a luxury. However, this method has proven to be effective as a marketing tool, which is often inexpensive and appreciated by employees, customers, and partners.
"Reward and punishment, are the only motives to a rational creature." 

– John Locke
Why should you give corporate gifts? Giving a gift to their customers, employees, or partners will allow you to increase their loyalty and satisfy them. In addition to demonstrating your gratitude to them and reminding them of their value to the company, A gift also motivates employees and helps you maintain good relationships with them and increase the company's performance.
To promote your business, you need to make sure that you are offering quality and high-value products or services to your customers. However, this is not enough, as you need to keep your employees and customers engaged and interactive with your business. And this is why corporate gifts are an essential part of any marketing strategy.
Corporate gifts occasions
There are many occasions to send corporate gifts. Many companies tend to reward their employees at the end of the year, which is the traditional time for gifts. However, throughout the year, there are many occasions or events suitable to give corporate gifts to your key partners, for example, marriage, birth, or various international days and holidays like women's day, employee's day, Ramadan…
Just look at the calendar and check out any upcoming events, or occasions like the company's anniversary, or a certain employee or partner's birthday. Go to Resal Glee or Resal Loyalty and choose the proper gift card for the proper occasion. To help you engage employees, customers, and partners with the company, and increase its brand awareness.
Here's another article about business rewards occasions: Most important event for employees and clients' gifts. 
Why corporate gifts are important for your business
With potential clients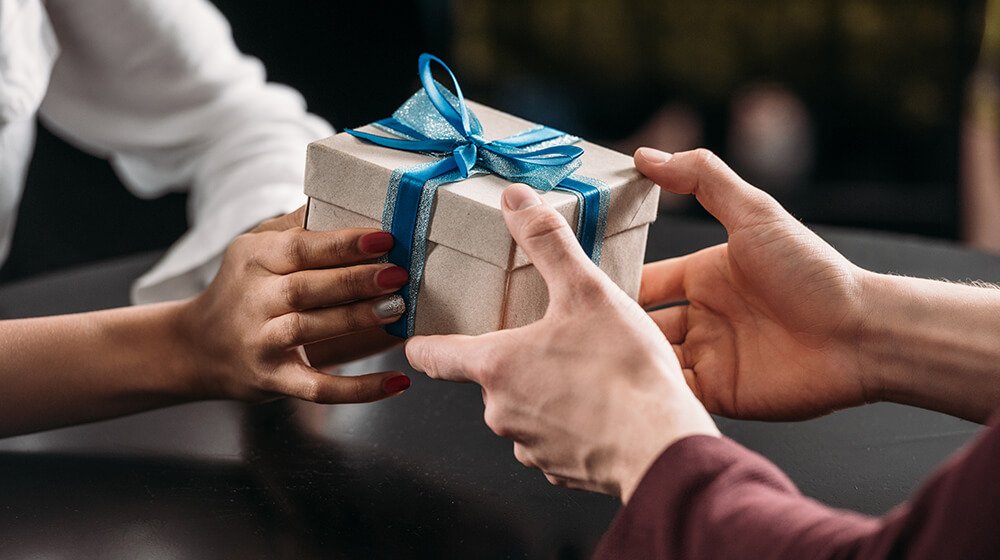 ٌRewards will motivate prospects into becoming loyal customers. Studies say that 80% of consumers say they are more likely to do business and engage with a brand that offers personalized rewards and experiences.
Presenting the right gift at the right time can prompt potential customers to take desired actions such as making a purchase, or signing up for a service, and interact with your brand. Not only that, but rewards and personalized offers will also help increase your brand awareness and reputation.
Read more about this in this article: How Glee helps companies attract customers 
With existing clients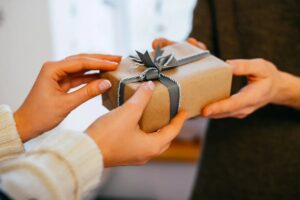 A great way to show appreciation to existing clients is by presenting valuable gifts to them. This will encourage them to continue associating with the brand and become loyal clients. Besides suggesting the brand to their loved ones as a marketing tool (word of mouth marketing),
Corporate gifts have also been shown to boost customer loyalty and encourage frequent visits. According to a retail study, consumers who have an emotional attachment and engagement with a brand have a 306% longer lifetime value.
More about this topic in this article: Everything you need to know about Loyalty Programs 
With employees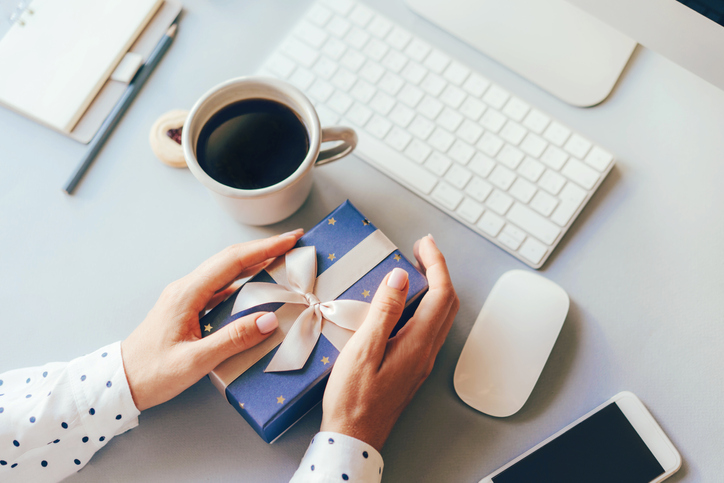 Customers or potential clients are not the only people companies need to consider for corporate gifts. In many cases, the key to achieving good customer outcomes begins with the quality of services provided, so it is essential to motivate employees. One study suggests that 57% of people say receiving gifts from their company makes them feel more valuable.
Employee rewards can increase loyalty to the company, reduce turnover, and help attract new talent to the team.
Corporate gifts for employees increase their productivity, satisfaction, sense of belonging, and connection with the team. In other words, it helps to create an amazing working environment. These feelings are reflected in the way employees perform their roles, motivate them to work more, and encourage them to give high performance.
Simply, making an employee feel positive and appreciated is key to a productive and enjoyable workplace, and corporate gifts can help employees boost the morale of the overall team.
How much budget you should spend on corporate gifts?
Before planning the budget, it is important to make a list of the people you're planning to reward, depending on the size of your staff and customer base. You won't be able to give a gift to everyone, so you will have to pick the recipients according to your criteria such as events, achievements, action…
In general, companies allocate about 1% of their final profits to the purchase of corporate gifts for customers. This is divided as follows: 50% for major customers (customers who help them generate high revenue), and 50% for the rest of the customers.
For employees, a survey found that the appropriate gift amount should be between $50 and $150. And in 2017, 73% of employers spent between $50 and $75 on corporate gifts.
Thus, the budget of gifts relates to the type of customer, employee, or partners and their performance, as well as the upcoming events and occasions.
Do you want to know how to motivate employees? Read this article: Employee motivation guide.
How to choose the right gift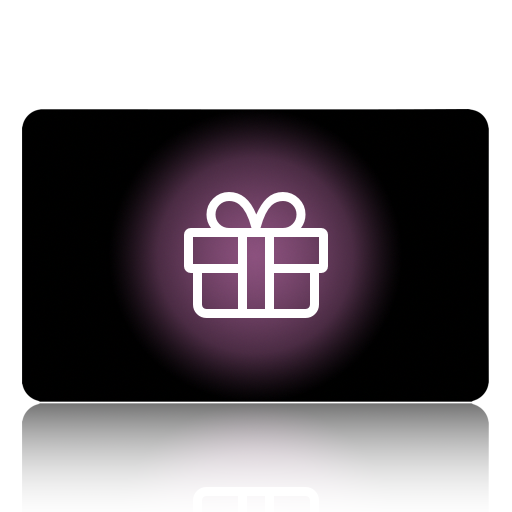 Giving a reward is a real communication process that you have to take the time to prepare for. Recipients are sure to remember a gift more easily if it is carefully chosen, but it can be very challenging to do so. That's why management needs to consider factors. Various attributes before choosing unique corporate gifts.
Choosing a digital gift card is a great option for gifting to key partners in various categories, as it ensures that they get exactly what they want.
Digital gift cards are varied, which means you can customize digital gift cards specifically for the person or event, according to the needs and preferences, and from various brands or stores.
Digital gift cards also give the recipients enough flexibility to spend them at any time and buy anything they want. It won't take much time and effort to choose gifts, and you can send them easily by email, or SMS.
Digital gift cards also overcome traditional gifts by also giving the recipient the option to spend online and benefit from special discounts and offers. This is convenient and ensures a positive user experience. And let's not forget that it's also the perfect way to show a great deal of appreciation for the business relationship between you and your partners.
In Resal, we know how important it is to reward your employees, customers, or partners. That's why we offer you an innovative solution to simplify your task and make gifting easy for you. With Resal Glee, you can choose from +300 different digital cards giving access to millions of products and services online. In Resal we believe that rewards create motivation, so let's motivate your clients together.
Join Resal Glee Now And Build Everlasting Relationships With Your Clients